Sets a webmail (such as Gmail, Windows Live Hotmail, Yahoo! Mail and AOL Mail) as the default e-mail program

Download
Version 0.5«new!
Windows 98/98SE/Me/2000/XP/Vista/7
& Server 2003(R2)/2008/2008R2
.NET Framework 2.0 (or 3.0, 3.5)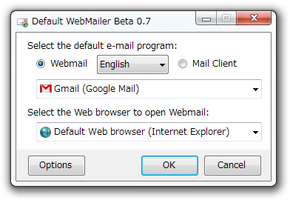 A set of free key images on the keyboard
136 PNGs
English (ANSI) & Japanese (JIS) PC keyboard layouts
Free to copy, distribute, display, remix, and make commercial use under Creative Commons License
Displays various images like animated GIF
Sequential/Non-Sequential filenames

Zero-padding or not (01, 02, ... or 1, 2, ...)

All image formats (PNG, JPEG, GIF, BMP, etc.)

Transparent PNG
High-quality images (more than 256 colors)

Animation delay (interval)
Repeat count of animtion
Animation control (play/stop/replay)
Stand-alone script (only just 2.5 KB file size)

JS libraries (jQuery) is not required
Transparent PNG
Background color is changed on mouse hover
Non-sequential filenames
blank.png, website.png, blog.png, and download.png are animated
Copyright © 2012
attosoft
. All rights reserved.