Default WebMailer Beta 0.6 is released.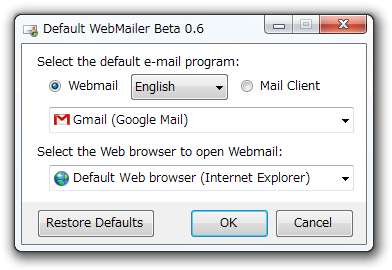 Introduction
Default WebMailer can set a webmail as the default e-mail program. More than 30 webmails such as Gmail, Hotmail, Yahoo! Mail and AOL Mail are available.
* For more information, see Default WebMailer Official Site.
Download

Default WebMailer Beta 0.6

(2011-12-22, 181 KB, ZIP file)
* Free only for personal & non-commercial use. For continued use or commercial use, please donate $5 to support. Thanks!
Past Releases
Changes from Previous Version (0.5)

Newly supports the following webmails
Improved mail link (mailto URL) handling completely

Converts mailto URL into appropriate encoding

Supports UTF-8, EUC-JP, Shift_JIS, ISO-2022-JP (JIS) and not-encoding (raw) text

Supports "to header" in mailto URL (e.g. mailto:addr1?to=addr2 is interpreted as mailto:addr1, addr2)
Supports webmails that some reserved characters in URL are not available
Supports webmails that empty mailto URL (mailto:) is not available

Some minor/trivial changes

New and Noteworthy Supports Gmail (Google Apps)
You can use custom email address that has your own domain in Gmail on Google Apps.

Selecting "Gmail (Google Mail, Google Apps)" from webmail list in Default WebMailer, the following dialog box will open to input your domain name used at Google Apps.

Supports webmail services in more languages
In addition to English/Japanese, Webmail services in 7 languages have been added. Major webmail services such as Yandex and Mail.ru in Russia, NAVER and Daum in Korea, and so on are available.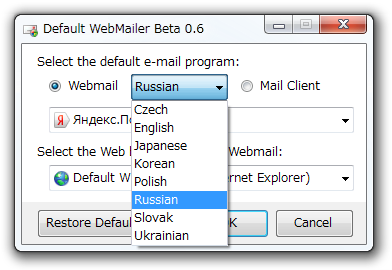 * See also List of Supported Webmail Services in Default WebMailer
Latest Information
The latest information including updates and documentation on Default WebMailer is available at the following URLs.