Default WebMailer Beta 0.5 is released.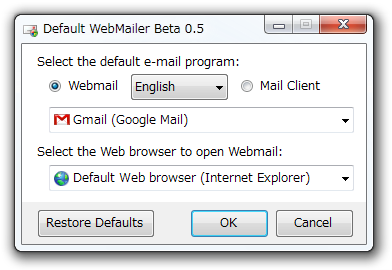 Introduction
Default WebMailer can set a webmail (such as Gmail, Windows Live Hotmail, Yahoo! Mail and AOL Mail) as the default e-mail program.
* For more information, see Default WebMailer Official Site.
Download

Default WebMailer Beta 0.5

(2011-10-27, 141 KB, ZIP file)
* Free only for personal & non-commercial use. For continued use or commercial use, please donate $5 to support. Thanks!
Past Releases
Changes from Previous Version (0.4)

Newly supports the following webmails
Display item icons (webmails, mail clients, Web browsers) in listboxes
Now supports selection of Web browser to open webmail

Also supports Google Chrome application

minor/trivial changes
* Note: Here is the already supported webmail services.
New and Noteworthy
Icons in Listbox
The item icons of webmails, mail clients and Web browsers are displayed in listboxes.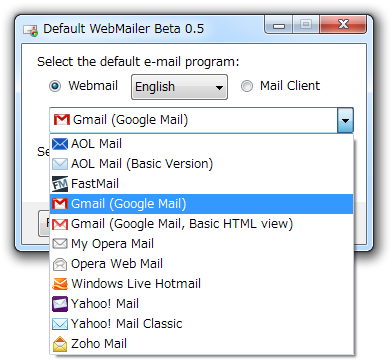 Selection of Web Browser to Open Webmail
Now you can select the installed Web browser to open webmail.
Support for Google Chrome Application
You can also open webmail as Google Chrome application.
Google Chrome Application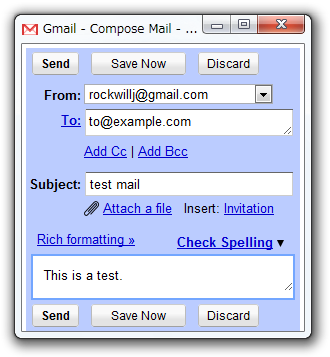 Google Chrome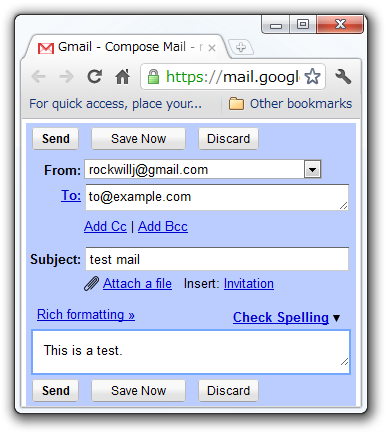 Latest Information
The latest information including updates and documentation on Default WebMailer is available at the following URLs.