Default WebMailer Beta 0.4 is released.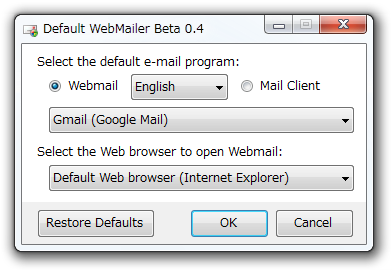 Introduction
Default WebMailer can set a webmail (such as Gmail, Windows Live Hotmail, Yahoo! Mail and AOL Mail) as the default e-mail program.
* For more information, see Default WebMailer Official Site.
Download

Default WebMailer Beta 0.4

(2011-10-24, 128 KB, ZIP file)
* Free only for personal & non-commercial use. For continued use or commercial use, please donate $5 to support. Thanks!
Past Releases
Changes from Previous Version (0.3)

Newly supports the following webmails

Displays webmails for each language (English/Japanese)

Supports also installed mail clients [Not available in beta]
Updated application icon (reduced about 100KB file size)
minor/trivial changes
* Note: Here is the already supported webmail services.
Latest Information
The latest information including updates and documentation on Default WebMailer is available at the following URLs.