Web site is redesigned completely. The work I did is as follows.
If you have any feedbacks, please comment to this post.
Switch to New Theme (Colorway Plus)
I was using customized WordPress Default theme that is default theme in WordPress 2.9 or earlier.

I wanted to change it because it is becoming obsolete. Then I found Colorway theme and like it. I decided to redesign web site with Colorway theme.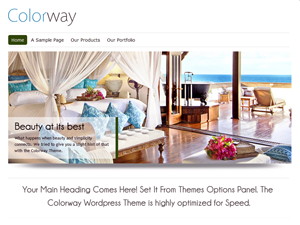 Unfortunately Colorway theme has many problems, so I created a child theme for Colorway. I think creating theme is web designer/developer works. It took more time than I expected since I'm a just programmer.
Colorway Plus Theme
This is a child theme for Colorway (Lite). Finally most files have been changed. Major changes are as follows.
Disabled cufon (not support multibyte character such as Japanese)
Fixed Smooth Navigational Menu issue that it does not work in IE 6/7
Replaced tipsy with jquery.balloon.js
Placed social buttons in header and bottom of posts/pages (Google +1, Tweet, Facebook Like)
Changed color theme, fixed design issues, internationalization, etc.
Here are screenshots of redesigned web site.


My ToDo is responsive web design such as liquid layout.
Multilingualization with qTranslate
* The content written here is moved to separate page.
Install/Delete WordPress Plugins
Mainly I use Recommended WordPress Plugins (in Japanese).
Used Plugins
YARPP Plugin on MyISAM/InnoDB
To use "Yet Another Related Posts Plugin" (YARPP), MyISAM is required in your database. If you use InnoDB storage engine, you need to convert "wp_post" table to MyISAM by executing ALTER TABLE wp_post ENGINE = MyISAM;.
* It is not recommended that both MyISAM and InnoDB are used in same table. The following query generates ALTER TABLE statements that converts all tables in your database.

SELECT CONCAT('ALTER TABLE ', table_schema, '.', table_name, ' ENGINE = MyISAM;') FROM information_schema.tables WHERE ENGINE = 'InnoDB';

New Installed Plugins
* Colorway Plus theme is SEO-friendly at some level. So I intend to remove All in One SEO Pack plugin in the near future.
Removed Plugins
* Note: Facebook Like button causes JavaScript errors in IE7 or earlier. And Google +1 button does not support IE7 or earlier. So I wrote the following code in wp-social-bookmarking-light.php included in WP Social Bookmarking Light plugin.

global $is_IE;
if ($is_IE && (strpos($_SERVER['HTTP_USER_AGENT'], 'MSIE 7')
    || strpos($_SERVER['HTTP_USER_AGENT'], 'MSIE 6')
    || strpos($_SERVER['HTTP_USER_AGENT'], 'MSIE 5'))) {
    return; // for Facebook Like and Google +1
}

Temporarily Used Plugins for Migration